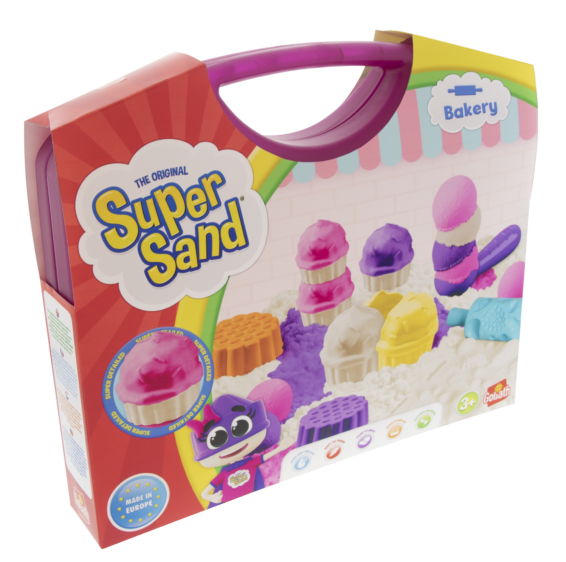 Super Sand Bakkerij Koffer
€ 21,99
Super Sand heeft nu ook een variant in de thema bakkerij. Met deze Super Sand vormen kun je jou eigen bakkerij maken. Je kunt ijs maken, een cupcake of zelfs een taart. Een handig alles-in-één opslagdoos waar je ook een speelgebied van kan maken.
Beschrijving
Haal het plezier van spelen met zand in huis met Super Sand. Dit speciale kinetische speelzand is super zacht, droogt niet uit en is heerlijk om mee te kneden. Het speelzand is antibacterieel en door de speciale structuur maak je met Super Sand Bakery Case de mooiste en leukste figuren. Met Super Sand hoeft niemand zich druk te maken om de troep op te ruimen, want met de speciale magnetische borstel is het zand zelfs makkelijk uit de vloerbedekking op te pakken. Gebruik je creativiteit of één van de vormpjes. De mogelijkheden zijn groot en bedoeld om eindeloos speelplezier te creëren. Begin jouw eigen bakerij!
Super Sand Bakery Case – Kinetisch Speelzand
Wie vindt het nou niet leuk om cupcakes te maken? Met het Super Sand Bakery Case pakket heb jij binnen no-time de leukste cupcakes gemaakt, of iets anders natuurlijk! Gebruik de verschillende vormpjes om de mooiste dingen te maken, en knutsel de mooiste creaties in elkaar!
Super Sand is geschikt voor kinderen van 3 jaar en ouder. Let op: dit product is niet geschikt voor kinderen onder de 36 maanden!
Welke accesoires zijn inbegrepen in de Super Sand Bakery Case?
In de case zitten de volgende accesoires:
300 gram wit zand
150 gram roze zand
150 gram paars zand
1 tweedelige cupcake vorm
1 cakevorm
1 ijsschep
1 roller
Gewicht & afmetingen van de Super Sand Bakery Case
Deze super sand case heeft een afmeting van 26,7x31x5,5cm en weegt in totaal 1100 gram.